D&D Class Roles – The Thief
Last of the four core classes: the thief, recently retitled the rogue in order to give the class a little more variety in its roles. We'll get to the other classes, but for the most part, the rounded party of Fighter, Priest, Magic-User, Thief has been the staple of D&D adventuring parties since the 1970s.
Older Editions
The last of the four core classes was introduced in the 1975 Greyhawk supplement. It's pretty obvious Gygax based the character off of Bilbo from The Hobbit, though there's some Grey Mouser and Cugel the Clever there: someone capable of stealing, but also capable of fighting and fast-talking their way in and out of situations. Interesting enough, in AD&D, thieves were the only class non-humans could reach unlimited levels in. There were also a number of weird restrictions on alignments between the early editions, so you could have a NG or LN noble rogue, but no LG or CG Robin Hood type. Thieves were most noted for their Backstab ability; if they attacked an enemy from the side or rear, they could do bonus damage, applying a damage multiplier to their final damage roll.
Thieves originally got thief skills, which were the closest thing AD&D had to a skills system. This was a percentile-roll sub-system, where the thief would have a certain percent (say, 35%) in Pick Pockets, Find & Remove Traps, Open Locks, Hide in Shadows, and Move Silently, and would have to roll their success. The skills started at a flat rate of 10-20%, and got a number of points to boost these per level.
Newer Editions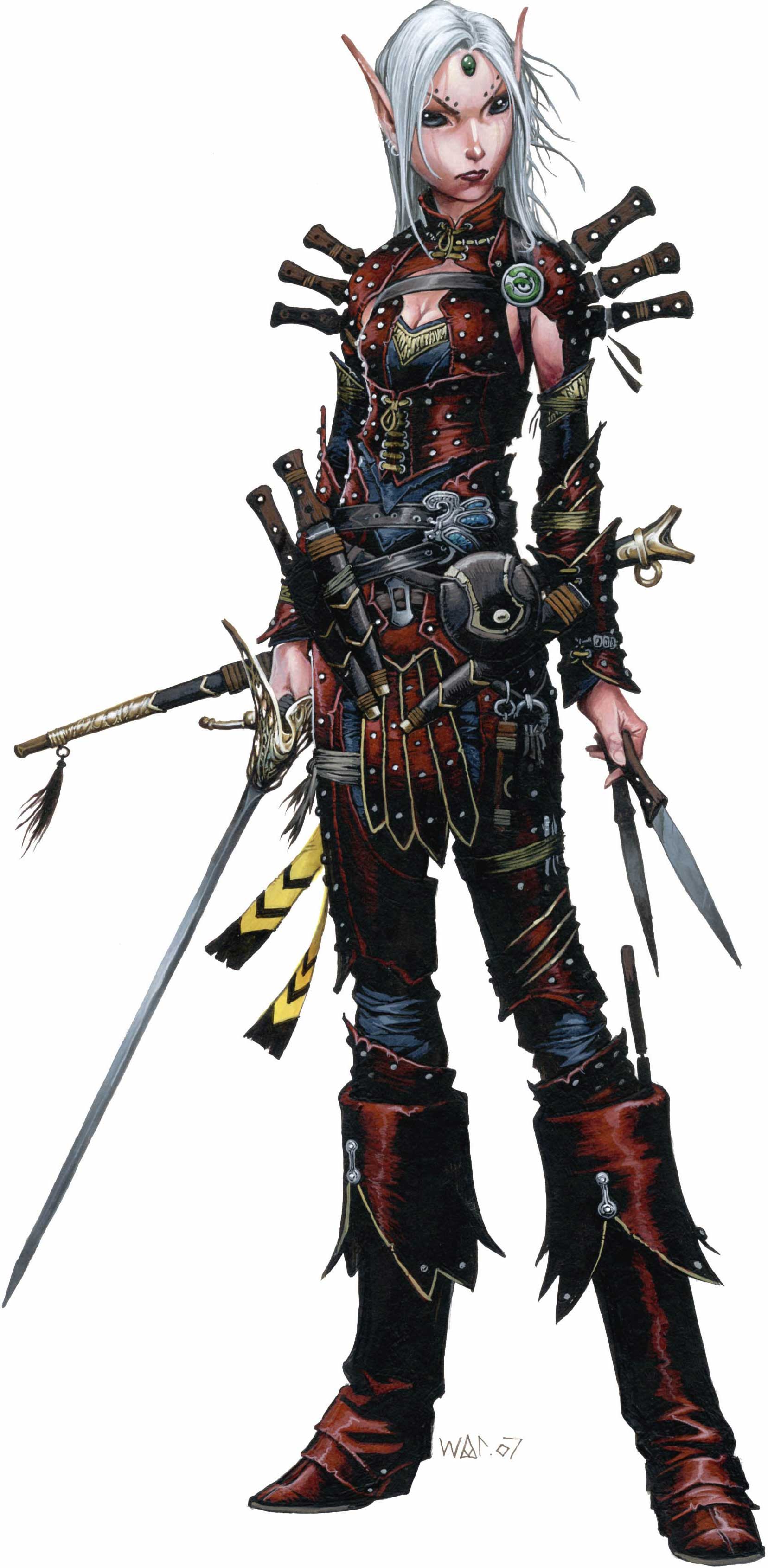 Thieves were renamed to rogues for 3rd edition; it's a good move. Thief has such a limited role (and negative connotation!) associated with it, while all sorts of good rogues populate fiction, from Han Solo to the Grey Mouser. Part of this new role was a broadening of what they could do; thief skills were rolled into the new skill system, and rogues got access to them… along with almost everything else. Backstab was replaced with sneak attack, an ability that dealt bonus d6es in damage when the rogue struck a target denied its Dex bonus, flat-footed, or flanked. Lastly, the class got rogue talents, special abilities or feats that allowed the rogue a number of benefits, such as "dirty" fighting tactics or the ability to move faster while stealthed.
Pathfinder didn't do much with rogues; it upped them from their traditional d6 hit die to the d8, so the class fell in line with every other class that had an average attack progression. It also expanded the number of rogue talents. 4th put them as Strikers, emphasizing their traditional mobility and single-target precision damage. Sneak attack was altered so that it only applied once per round, compared to 3.5 and Pathfinder.
Prime Attributes
Dexterity is the most important attribute for all thieves, since it handles all of their finesse-based stealth, perception, and trap/locksmithing skills. It also improves their initiative, Reflex saves, and ranged attacks, three things rogues use often. Intelligence gives the rogue more skill points, and Constitution is never a bad stat to have.
Role within the party
Rogues fill several roles; primarily, they are the skirmisher, the class cannon in combat who can dish out the most damage in one hit (through their sneak attacks). Rogue precision damage can make or break a combat, so they need to rely on their other assets to get into striking position: stealth, tactical movement (Tumble/Acrobatics), flanking. Secondly, and more important for AD&D games, rogues are the people who set and disarm traps, find and open locked doors, and make sure the treasure chest isn't a potential explosive device. They also have the option to specialize in anything they want skills-wise.
Also worth noting: because of their stealth skills, rogues make excellent scouts, finding out what's lurking ahead of the party before the party stumbles into it.
Advantages
The rogue is awash in skill points and skills; rogues rely on a variety of skills, and get a wider array of them than anyone else. Rogues are the only class who can pick pockets and open locks; they can also specialize in a number of diplomatic skills, stealth skills, all the perception skills, and use magic device. UMD is not a skill to under-emphasize, since it allows the rogue to use wands and scrolls, which is a damn fine ability to have, particularly if the group is low on casters. Their Trap Sense, Uncanny Dodge, and Evasion abilities allow them to ignore hindrances that could cripple an unprepared fighter.
Rogues get average hit dice and attack progressions, and can use a number of basic/light weapons and armor, giving them better survivability than wizards in melee… though, to use their abilities to the fullest, lighter armor is best. Rogues aren't as good as fighters or clerics due to their lower AC, but they have great mobility, and a good weapon selection.
The rogue's best asset is their backstab/sneak attack: the extra damage is where it's at. Rogues are generally geared to damage output, and hitting is of prime importance; a rogue's other abilities—stealth, tumbling, flanking—all set them up to sneak attack. A good sneak hit can ruin just about anything in the game, provided it is subject to criticals.
Disadvantages
Rogues are going to be in combat a lot—flanking and whatnot to set up sneak attacks—and will probably have the lowest AC of all the party melee combatants. This means their health won't go as far, even in Pathfinder with a d8. Most important, rogues suffer from the flaws of both Wizards and Fighters—they have terrible Will and Fort saves, making them perfect bait for any number of spells and spell-likes. Unlike fighters, they don't get a bonus against fear spells, and they're just as easy to dominate. Comparatively, rogues aren't that weak, but they have some major weak spots.
Class Comparison
Rogues start the game as a fairly weak class—less health and AC than the fighter or cleric, as well as less damage potential—but end up in a very strong position, with the best damage output per class, as many varied skills as they want, and the ability to use scrolls and magic items. Rogues are a lot like wizards: both of them follow a strange D&D power pattern that makes them nearly worthless at first level, and can end up outperforming other classes. They also ignore anything requiring a Ref save. That said, rogues still have several major flaws. They never have the health or AC that they need, and are easy targets for Will-based (dominate, charm/hold) or Fort-based (disintegrate, slay living) spells. Rogues are powerful classes, but are even more of a glass cannon than wizards; wizards can simply cast fly or stoneskin, while rogues have to UMD scrolls at best, and more often than not take it in the teeth.
About admiral.ironbombs
"The most beautiful things are those that madness prompts and reason writes." -- Andre Gide "But I think you should know this--specifically, in case you are, say, in your twenties and rather poor and perhaps becoming filled with despair, whether you are an SF writer or not, whatever you want to make of your life. There can be a lot of fear, and often it is a justified fear. [...] Kabir, the sixteenth-century Sufi poet, wrote, 'If you have not lived through something, it is not true.' So live through it; I mean, go all the way to the end. Only then can it be understood, not along the way." -- Philip K. Dick